Choosing the Best Nissan Sedan for You
When you are looking for a new car, it's important that you make the right decision based on your needs. There are a lot of options to take into consideration. In addition, you want to pay close attention to safety, features, and cost.
Here are some Nissan sedans for you to consider:
Nissan Versa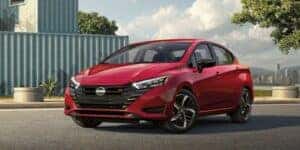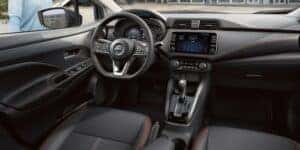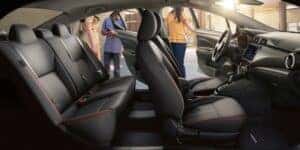 The Nissan Versa is a budget friendly car. It is a sedan, but it's a subcompact sedan, so it's going to be smaller than the other sedans on the list. It has a low starting price, well under $20,000. Nissan has made it a mission to provide this family car that is reliable and stylish at an affordable price. The base model has Bluetooth, air conditioning, and controls on the steering wheel. It comes with a manual transmission, but you can upgrade even the base model with an automatic. You can also expect to get about 39 miles to the gallon on the highway and 31 in the city. Even though it's a small car, two adults can fit comfortably in the backseat. You won't find leather interior on even the highest trim level.
Nissan Sentra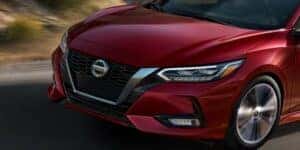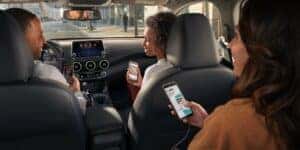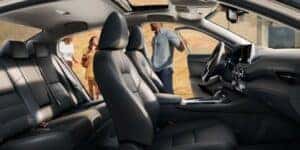 The Nissan Sentra takes it up a notch from the Versa. This is a family car with a sporty look to it. This is the car you want to drive on tight city streets. It's a small sedan but comes with nice perks. It has Bluetooth and USB ports. It has an LED screen and a drive assist package. Depending on which trim you pick, you can get navigation, Sirius XM, and a blind spot warning. You will find that the Sentra comes with less horsepower, with only 130 horses and a 4-cylinder engine. If you upgrade to the turbo-charged engine, you get 188 horsepower. You can expect to get 37 miles per gallon on the highway and 29 miles in the city. You get comfort, technology, safety, and fuel efficiency with the Nissan Sentra.
Nissan Altima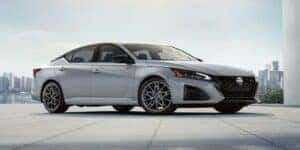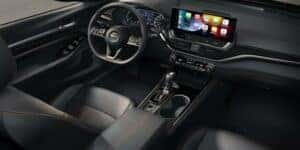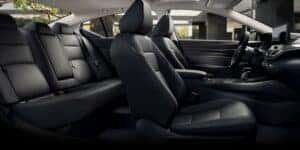 The Nissan Altima has been a strong offering in the Nissan sedan line for decades. It has power and space, and it's well-equipped, all at a reasonable price. It can easily fit five passengers. Even though it's smaller than the Nissan Maxima, it has more interior room. It has enough safety features and technology to make any driver happy. It has intelligent cruise control, a drive-assist display, forward emergency braking, and predictive forward collision warning. The standard engine offers 188 horsepower paired with a 2.5L I-4. You also have the option of a four cylinder 2.0L turbo engine with 248 horsepower. Depending on the engine, you can expect between 25 to 28 miles per gallon in the city and between 34 to 39 on the highway.
Nissan Maxima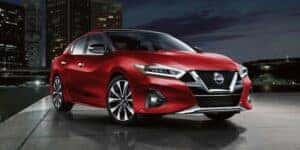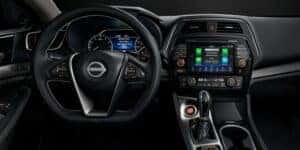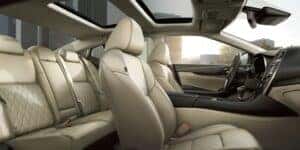 The Maxima is the most sedan Nissan has to offer. This sedan provides style and function for the entire family. It's an upscale vehicle, but it comes with a price to match. It has sleek lines to give it more of a sports car look. The standard engine is a 3.5-liter V6 engine with 300 horsepower. The Maxima is loaded with safety features, including forward emergency braking, predictive forward collision warning, and rear cross traffic alert. It has climate-controlled front seats and leather upholstery. On top of that, the Maxima is fun to drive because it has a sport-tuned suspension that gives you tight handling and responsive driving. All travel information can be viewed on the instrument panel, which helps the driver keep their eyes on the road.
Which is the Best Sedan?
All these Nissans are wonderful vehicles that provide a unique driving experience. Your personal preference impacts which Nissan is best for you. If you're looking for the most budget-friendly option, the Versa may be the best bet. If you want a car that's more fuel-efficient for regular commutes, you may want to consider the Altima. The Maxima should be your go-to if you want something sporty and fast. However, if you want a compact car that still provides you with exceptional space, then the Sentra might be right for you.
No matter which Nissan sedan you choose, you can trust Boucher Nissan of Waukesha to help answer all your questions. So come in and see us today to get into your favorite Nissan sedan.